THE SWITCH

YOUTH GROUP
Our Switch group is our middle school and high school group that meets on Friday nights at church from 7:00PM- 9:00PM. The Friday night gatherings are fun and include snack and catch-up, games, Bible study and prayer. If your child is in middle school or high school, we would love to welcome them to join our fun (and sometimes unpredictable) nights of shenanigans. We also have fun meal nights once a month and quarterly outings which allow us to take a break and have some fun as a faith community.
On Sundays, our high school students stay in the Worship Service, or they can volunteer to help the younger students in their Sunday School classes.
For more information, please contact Pastor Sam at mrsamuelsuk@gmail.com
Registration for High School: https://form.jotform.com/220458918621156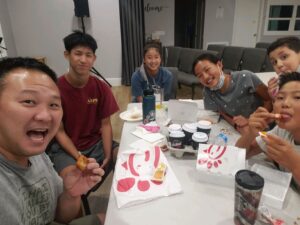 COLLEGE/YOUNG ADULT GROUP
Our College/Young Adult Group meets twice a month, every 1st and 3rd Sunday after the Worship Service. We share a meal together and are currently studying the book of Genesis. If you are a college student or young adult (18-25+), we would love to read and discuss the first book of the Bible together!
The book of Genesis is so important for us as Christians. It shows us where our faith comes from. It presents to us the history of how God relates to creation. It's also one of the most difficult books of the Bible to study not only because of its complex cultural context but also because of the dialogue that the book's content has with our modern culture today.
Be refreshed and challenged and enjoy rereading the book that starts it all.