The Community Church Kids
The Community Church Kids is led by Pastor Sam Suk. Our Sundays begin in the main sanctuary where we worship together as a church family with praise songs fit for every age. After our awesome time of praise, the pre-k/kinder, elementary age children and middle school age kids are dismissed to the nearby Children's Ministry Building at 874 Sweetser Ave., to learn a story from the Bible while our high school age members stay in the main service to continue in their worship. One of the best things about our church is our multi- generational worship services where we can grow in faith together with our younger members as they mature. For more information about our children's programs, please contact Pastor Sam at

mrsamuelsuk@gmail.com

.
nursery |
BABIES & THEIR PARENTS
The Community Church offers a nursery with toys and a rocking chair for babies and parents to enjoy the worship service during the sermon time. The nursery is also equipped with a closed-circuit monitor for watching the service comfortably while your baby is playing or napping. Please feel free to nurse your baby as well.
pre-k / kinder |
AGES 3-5
Our Pre-K/Kinder-age children gather in the preschool room which is connected to the main room in the children's ministry building. They learn a Bible story presented in felt board story format where they are able to engage with the story in a way that is easier to understand. After the story, the preschoolers do a fun activity related to the story which during that time we try to engage them with questions and conversations about the Bible story.
elementary |
1ST – 6TH GRADES
Our Elementary-age children gather in the main room of the children's ministry building. The children are engaged in a Bible story presented with wooden characters and different creative settings. Our Sunday format uses and is inspired by the Godly Play curriculum. The storyteller tells one story with the figures, then asks open-ended questions which allow the kids to answer honestly. Afterwards, we read the Bible passage after the story is told and pray. Then, it's off to our creative response time. During our creative response time, kids are encouraged to create something about the story that stood out to them and explain it. After, they're given freedom to make anything they want.
middle school sunday huddle
We allow middle school age kids to help out as teacher's aides for the Pre-K/Kinder ministry as long as they can receive the Word of God from the stories we tell. Sometimes middle school age kids have a hard time connecting in their season of adjusting, and we try to be sensitive in a way that encourages them to be part of the community. After the Pre-K/Kinder ministry finishes, the middle school helps clean up, and we talk about the stories and the interactions with the kids. Middle school members of our church can also join our Friday night Switch Bible Study Group.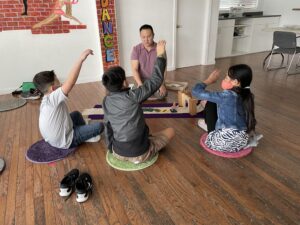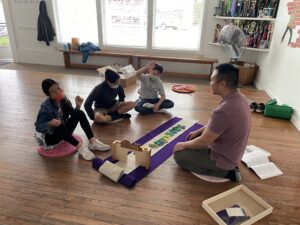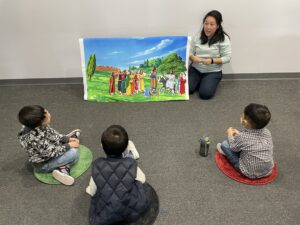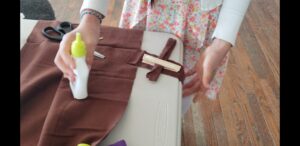 Join us for an exciting week of learning about God and meeting new friends at Monumental Vacation Bible School!

Date: June 14 – 18 (Tues. – Sat) / 9:00 am – 12:00 pm (early arrival at 8:45 am)

Who: Ages 3 – 12 (pre-school age children must be fully potty trained)
Registration: Opens on April 10, 2022. Deadline to guarantee a VBS shirt is May 10, 2022.
Cost: $30 for each child. $20 each for any additional sibling. Credit, Debit. For cash and check payments contact Pastor Sam at mrsamuelsuk@gmail.com.
Discounts:
Early Bird – $20 for each child (until May 10, 2022). $10 for each additional sibling.
Children of volunteers – No cost.
Scholarships – Contact Pastor Sam for scholarships.
To print out the 2022 VBS Liability and Photo Release Form, click

here

.