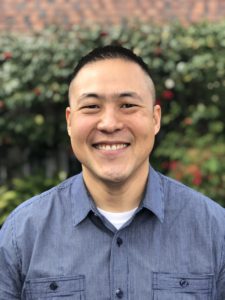 Pastor Tim was born and raised in Toronto, Canada. He grew up playing the piano, and when he wasn't playing music, he was playing sports, especially with the rugby or wrestling team. He attended Queen's University and graduated with a Bachelors of Music in piano performance, and it was during his time in college that he received his call into ministry.
Upon receiving his call, he moved to Southern California to attend Fuller Theological Seminary. While attending Fuller, he began serving at a local church where he met the girl of his dreams with whom he is now married to, his wife, Monica. After graduating with his Masters in Divinity, he served as a local church pastor for several years in Southern California until receiving his call to join the military as an active duty Navy Chaplain. As a chaplain, he has served on a ship, deploying in support of OPERATION ENDURING FREEDOM, followed by an assignment as the command chaplain at the Coast Guard Training Center in Petaluma. He then transitioned into the Navy reserves and is currently serving as the Battalion Chaplain for 5th Battalion, 14th Marines.
Pastor Tim and Monica have three beautiful children, Joshua, Elise and Daniel, and currently live in Petaluma. Pastor Tim continues in his love for playing sports and always enjoys a good workout. His interests also include watching movies, listening to music, and drinking a good cup of coffee, but his absolute favorite thing to do is to eat. Monica is a school nurse and loves gardening, going for walks and basking in the sun. She has a heart for women's ministry and loves connecting over a nice cup of tea.
Pastor Tim and his family are excited to be joining the MACC community. He looks forward to growing a community where people are excited about Jesus and are being changed as they are encountering Christ in their lives. Jeremiah 29:11 has always been a powerful anthem in his life, and he can't wait to see God's plan unfolding in the MACC family!